You've invested the time, effort, and money to install a gorgeous swimming pool. Why not go ahead and decorate the area around it to create the backyard oasis of your dreams? With a little bit of imagination, you can have a pool and deck area that's the envy of everyone you know, and the "go to" location for the best pool parties this summer!
Inspiration for the Perfect Pool Setting
Check out these photos of inspired designs to get your creative juices flowing.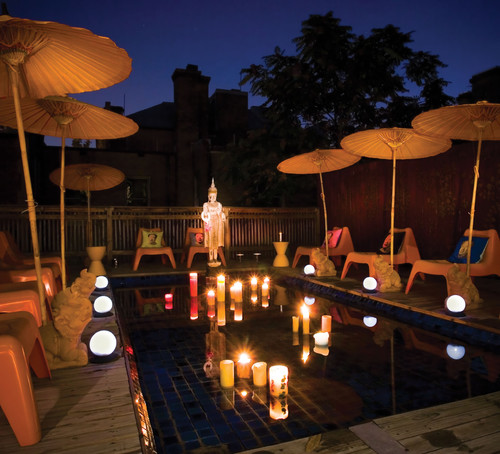 Back to Nature
A free form shape and strategically placed native plants is all it takes to make your pool feel beautifully organic.
The Perfect Patio
Adding an extended patio with a built-in fire pit gives you and your guests the perfect place to warm up after a brisk evening dip.
An Exotic Flair
Escape to an Asian oasis by adding parasols, statues, and candles to your pool deck.
Direct Connection
Having both a pool and a spa is great. Having the two connected with a custom concrete channel is awesome!
Frame it Up
If you're fortunate enough to have a great view from your pool, you can get extra mileage from it by using anything from large urns to trees or shrubs to "frame" it.
Rock it!
The combination of natural stone pavers and artificial rock outcroppings can give your pool area the feel of a rugged, rural retreat. 
Just Add Accents
Placing stepping stones or other natural accents in the water can totally change the look and feel of your pool. It's a fast and relatively inexpensive way to add a designer touch.
The Beauty of Simplicity
By using few (if any) decorations and limiting the colors in your pool area, you can create a marvelously minimalist look.
Take Me to Italy!
A couple neutral color chaise lounges and a burnt orange umbrella and you're well on your way to Tuscany. Picture yourself sunning and swimming with the family by day, and sipping fine wine with friends by night!
Fabulous Fountains
Installing fountains around your pool adds visual – and auditory – appeal.
Picking the Perfect Look
Formal or casual… organic or industrial… whatever look you favor, there's a way to create it around your backyard pool. What designer touches will you add to your pool deck in preparation for the summer swim season?